This will guide you into logging into the portal for the first time.
To be able to manage your domain or your user information, go to nova.vestednetworks.com. You will be taken to this screen.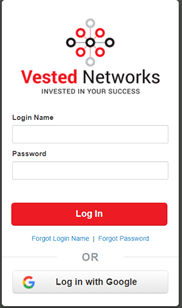 Your login name will be your ext@(domain name). For instance if you extension is 101 and your domain based off of your company name is TestDomain, then you login will be 101@TestDomain. Caps are important and need to be used. The default password for login is Vested25 with a capitol V.
Once you are logged into the portal you will see the following depending on your user rights.
Basic user:

Office Manager:

We recommend that once you are logged into the portal to change your password to something that you can remember. To do this go to your extension in the upper right of the portal.

Click on Profile: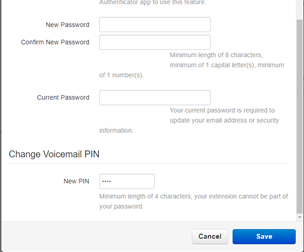 Here you can change your password and your voicemail pin. Make sure to click on save to save your changes.
Again, the changes you can make are based on your user rights. Basic User only allows you to make changes to your specific profile however Office Manager, manages the whole domain and can affect everyone and the Company as a whole.
In another article we will cover how to navigate around the portal and make changes.
If you have any questions about this process, or if you need assistance, please reach out to our Support Team by dialing HELP(4357) on your desk phone, calling (972) 924-6488, or submitting a ticket here